Google Maps
Discovered ways to improve Google Maps via various usability tests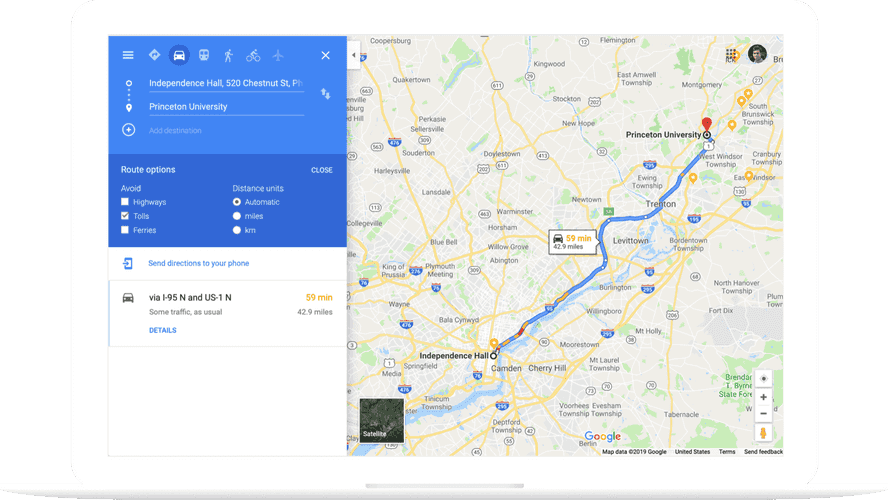 Overview
Google Maps is a well-established product that assists people with navigation. As part of my Usability Evaluation course, 3 methods were used to analyze its website. Synthesized findings revealed what worked well and what could be improved.
Team: 3 Designers (1 Moderator, and 1 to log Qualitative & Quantitative metrics respectively)
Role: Heuristic evaluation, Task construction, Conducting Usability Tests, Assist recording metrics
Timeline: 1 month (Feb '18)
Goal
College students heavily rely upon navigation to get to places such as campus and work. The purpose of these tests is evaluate the usability of the Google Maps website and see how helpful it is for college students.
Users & Audience
Scope For this project, the testing was limited to the Google Maps website. The tests were focused around using the website, how it helps find locations and use navigation.
Process
We first started with heuristic evaluation to quickly assess the interface and identify where the usability issues were. We used the findings from here to create a task booklet that was then used for first, face-to-face and then remote usability tests.
In the end, the results were compiled to identify what Google Maps does well and needs improvement on.
---
Heuristic Evaluation
Reviewed website using ISO 9241 principles
Identified issues and assigned severity ratings
Aided in creating task booklet
User Testing
The testing was conducted by one moderator and two observers to log quantitative and qualitative data respectively. Our team of 3 took turns carrying out each task.
6 participants
30 min each
We constructed our tasks based on findings from the heuristic evaluation. We then conducted face-to-face and remote user testing.
Face-to-face testing - quantitative logs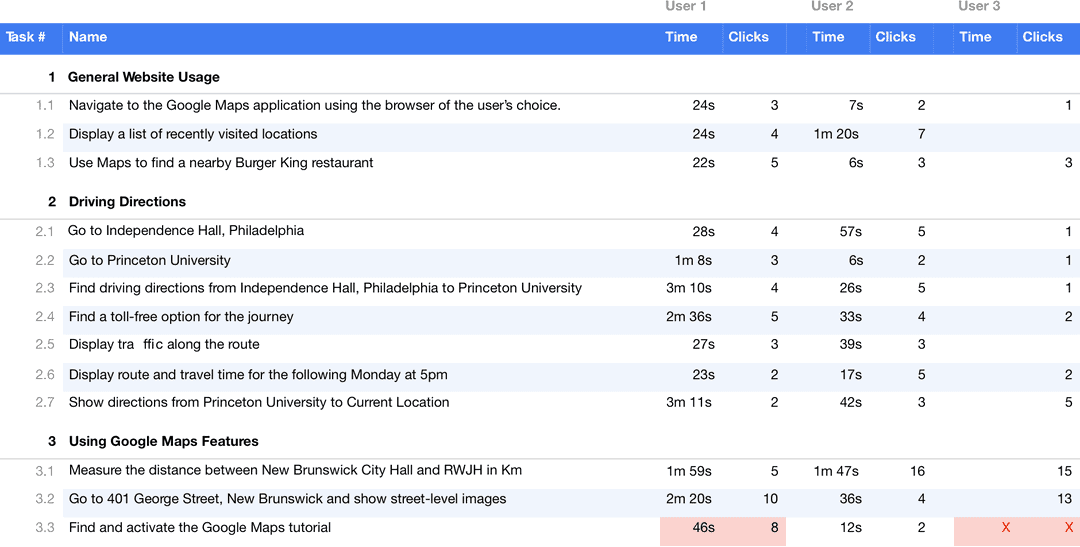 Remote testing - quantitative logs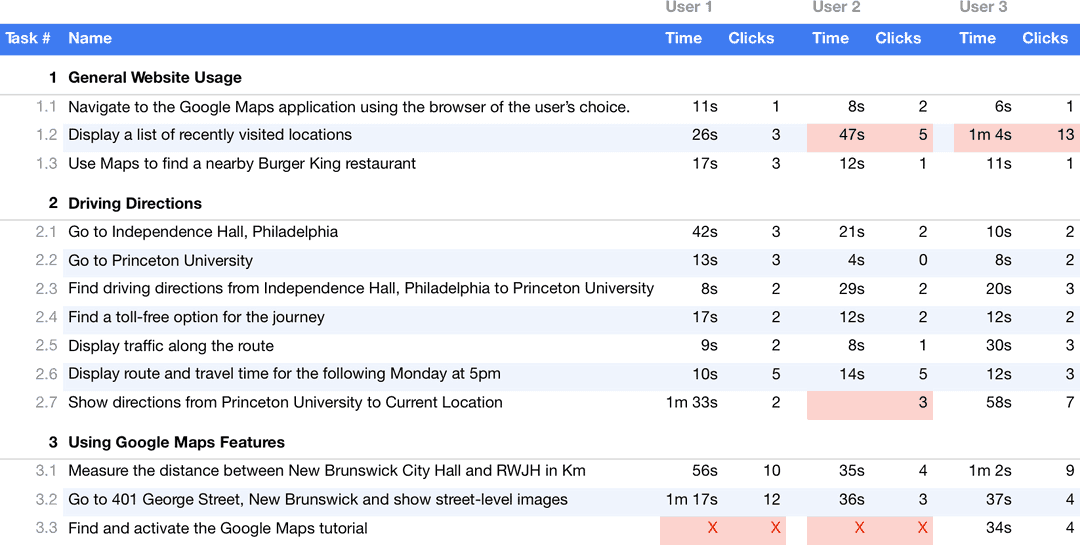 Based on both qualitative and quantitative findings, we discovered key areas that work well and those that need improvement.
What works
Most participants found the left-search pane most useful. Tasks involving this took them the least time and effort to complete. Here are some other areas that users had no problem interacting with.
Search bar
Route filters
Recent searches
Reverse origin and destination
Areas of opportunity
The user testing revealed 3 problem areas. They're highlighted below along with recommendations.
No one used Help
No one used Get Help or Tips and Tricks when stuck on a task
Answers to 3 of the tasks were on the first page of results
Recommendation
Tips and Tricks could use more prominence and a descriptive name for discoverability
The sidebar could display the most common "How do I…" help topics to help onboard new users
Platform inconsistency
Users were not as familiar with the desktop version as with the native app
Users said certain tasks easier on phone but not in browser
Recommendation
The native app could be referenced when designing for web to increase familiarity (since users were more familiar with the app).
Street View inconsistency
The action had a different icon and interaction in its side menu and bottom-right placements. This impacted recognizability.
Recommendation
Regardless of location, Street Views icon and interaction could be made consistent to improve familiarity with the feature
When viewing a location, giving more focus on Street View could increase discoverability
---
Key takeaways from user testing
Differences between desktop and mobile versions cause friction
Each user learned something new about the interface
Google Maps is in a very usable state but there are opportunities to improve
Personal learnings
Heuristic evaluation helped guide task construction and test our early findings
A moderator's ability to establish trust and comfort with the participant directly affects their performance
Non-verbal cues could be easily picked up when in-person
Remote testing made it harder to engage participants in active communication